Hotels
Visiting Montreal is a memorable time. Why not embellish this memorable time by staying in Montreal`s finest hotels. Known to have all great names of hotels, Montreal also has luxury motels and Bed & Breakfast rooms.
Our E-Guide will lead you to a complete list of hotels, motels and bed & breakfast rooms.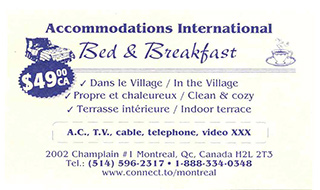 Visiter Montreal est toujours un moment agreable et pourquoi ne pas agrementer ce moment en demeurant a l`un des luxueux hotels de Montreal. Connu pour ses grands noms en hotellerie, Montreal vous offre aussi de luxueux motels de meme que des chambres Bed & Breakfast.
Notre E-Guide vous dirigera a une liste complete d`hotels de motels ainsi que les chambres les plus abordables en Bed & Breakfast.